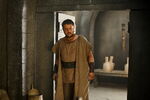 "You can't go until you've cleaned this place!"
This article is in need of cleaning/updating. Help Atlantis Wiki improve this article.
In the TV series Atlantis, a lot of Ancient Greek Mythology references is used to explain things that occur during the episodes.
Greek References Used
Edit
The Minotaur in The Earth Bull is part of Greek Mythology.
Jason's name may refer to the original Jason, a mortal that led the Argonauts to capture the Golden Fleece.
Ad blocker interference detected!
Wikia is a free-to-use site that makes money from advertising. We have a modified experience for viewers using ad blockers

Wikia is not accessible if you've made further modifications. Remove the custom ad blocker rule(s) and the page will load as expected.