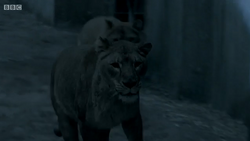 A Hunting Lion was a lion used by the guards of the City of Atlantis to catch people who had committed treason. Jason, Hercules and Pythagoras were chased by two of these lions when Hercules tried to escape the ceremony of choosing stones. (The Earth Bull)
Ad blocker interference detected!
Wikia is a free-to-use site that makes money from advertising. We have a modified experience for viewers using ad blockers

Wikia is not accessible if you've made further modifications. Remove the custom ad blocker rule(s) and the page will load as expected.