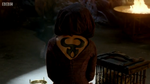 Poseidon was the god of the sea who was worshipped by Atlanteans. They often showed their faith in the Temple of Poseidon. (The Earth Bull) Poseidon was the judge of most Atlanteans in slaying the Minotaur and their skill in bull-leaping. (A Boy of No Consequence)
When the Palladium was stolen by Medea, it was said the earthquake that ensued was the anger of Poseidon. (A New Dawn Part 1)
Mythology
Edit
Poseidon (/pɵˈsaɪdən/; Greek: Ποσειδῶν, pronounced [pose͜edɔ́͜ɔn]) is one of the twelve Olympian deities of the pantheon in Greek mythology. His main domain is the ocean, and he is called the "God of the Sea". Additionally, he is referred to as "Earth-Shaker" due to his role in causing earthquakes, and has been called the "tamer of horses". He is usually depicted as an older male with curly hair and beard.
The name of the sea-god Nethuns in Etruscan was adopted in Latin for Neptune in Roman mythology; both were sea gods analogous to Poseidon. Linear B tablets show that Poseidon was venerated at Pylos and Thebes in pre-Olympian Bronze Age Greece as a chief deity, but he was integrated into the Olympian gods as the brother of Zeus and Hades. According to some folklore, he was saved by his mother Rhea, who concealed him among a flock of lambs and pretended to have given birth to a colt, which was devoured by Cronos.
There is a Homeric hymn to Poseidon, who was the protector of many Hellenic cities, although he lost the contest for Athens to Athena. According to the references from Plato in his dialogues Timaeus and Critias, the island of Atlantis was the chosen domain of Poseidon.
Ad blocker interference detected!
Wikia is a free-to-use site that makes money from advertising. We have a modified experience for viewers using ad blockers

Wikia is not accessible if you've made further modifications. Remove the custom ad blocker rule(s) and the page will load as expected.