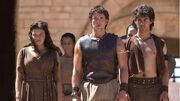 The Seven Tributes was a tradition in the City of Atlantis where seven individuals who chose black stones in the Ceremony of Choosing Stones were given the chance to slay the Minotaur in the Labyrinth. They were paraded through the streets of Atlantis by soldiers in order to show their honour. (The Earth Bull)
Ad blocker interference detected!
Wikia is a free-to-use site that makes money from advertising. We have a modified experience for viewers using ad blockers

Wikia is not accessible if you've made further modifications. Remove the custom ad blocker rule(s) and the page will load as expected.